Even 15 years ago, catching public transport was a very different experience than it is today. You'd have been anxiously peering down your local road, waiting for a bus that never seemed to arrive on time, clutching the exact change for your fare in hand. Today, lots of people can relax and have a more comfortable journey, knowing exactly when the bus will arrive and having the choice to pay by smart card, contactless card or mobile ticket.
This positive change in everyday travel was made possible by developing new technologies – in this case, real-time information systems, microchips, wireless scanning and smartphone apps – and testing them in the real world, with the public and private sectors often working together on pilot projects.
Public transport smart cards were first piloted on buses in the Harrow area of London in 1994, by the predecessor of Transport for London. This early trial led to the introduction of the Oyster card in 2003, and since then smart cards have become widespread around the UK and across the globe in cities such as Sydney, Stockholm and Paris.
The next revolution
According to policy makers and industry leaders, the UK is once more on the cusp of a "revolution" in urban transport. For example, there is currently a big push to develop a new generation of connected and automated vehicles, commonly known as driverless cars.
Driverless cars are connected to the internet, to other vehicles and to urban infrastructure – forming the Internet of Things – all while needing little or no driver intervention. It's still unclear how effectively these vehicles would operate in the bustle of a city centre, but research by UWE Bristol found that driverless vehicles could also improve mobility for elderly people who can no longer drive and live in rural areas.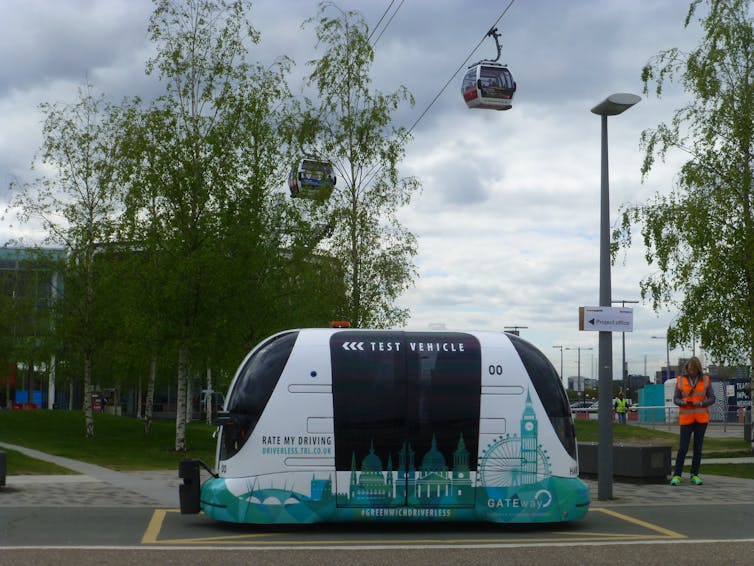 The Gateway autonomous pod, trialled in Greenwich, London. Image: citytransportinfo/Flickr/creative commons.
New business models for transport sharing are also changing how people get around. Mobility as a Service (MaaS) is a smart phone enabled service, which makes using and paying for all travel possible from just one app. MaaS was pioneered in Finland – it's now fully operational in Helsinki under the Whim app – and a pilot in the West Midlands began in 2017.
Just like purchasing a phone contract, the app allows you to choose from different plans, putting credit towards public transport, bike sharing schemes, car rental and taxis. MaaS could allow people to save on their monthly transport spending, and ultimately could offer a convenient alternative to owning a car.
---
Better for everyone
It's up to governments to ensure that new technologies are harnessed for the benefit of the wider public. To do this, local authorities have to create their own visions of what towns and cities should look like in the future – with input from the public – and make sure that transport systems are efficient, environmentally sustainable and fair for all residents.
Technology can help to reach these goals, but government needs to steer the direction of innovation. In particular, local governments need to ensure that innovations such as driverless cars and MaaS don't result in more traffic overall and the continuation of car-centric cities, and that they are affordable and accessible for all.
These visions must be linked to a programme of experimentation – for example, in the form of pilot projects to test the benefits of new technologies on the ground, before making bigger investments. To do piloting, local government needs to work together with private sector technology companies.
Yet there is one big thing stopping all of this: austerity. Local government needs to build and maintain capacity for innovation, and that takes considerable resources above and beyond the delivery of standard services. Unfortunately, over the last decade or so, central government has left local authorities cash-strapped.
Technically speaking, overall public spending on transport in the UK has actually grown since 2010 (alongside the nation's overall debt). But the core revenue support grants to local authorities were cut by 40 per cent between 2010 and 2015, and the 2010 Transport Spending Review included drastic cuts to many local transport budgets.
As a result, local authorities have had to downsize their transport departments and even cease services. Council spending on supported bus services in England has reduced by 46 per cent since 2010-11, and the scale of the bus network has fallen to levels last seen in 1991. When basic transport functions cannot even be sustained, it's no surprise that innovation is put on the back burner.
While some Department for Transport funding is still available for piloting, local authorities are investing vast human resources into competitive bidding for these increasingly lean funding streams. But based on my own research into transport innovation in Bristol, it seems that being reliant on short-term, project-based funding makes it difficult for local government to effectively learn from such projects.
Even if a project is successful, there is no guarantee that further investment will be available for scaling up. Further research on transport innovation in Manchester and Brighton and Oxford has also shown that, in the last decade, local governments have had limited capacity to experiment and reshape urban mobility systems.
A few local authorities, such Bristol City Council, have managed to build up a strong capacity for transport innovation through strategic leadership, dedicated teams and networking with other cities. But there's no sign that more funding for transport pilots will be made available anytime in the near future. The government's Future of Mobility Strategy continues to push heavily for driverless cars, but doesn't include more resources for local government, who have overall responsibility for transport services in local areas.
New technologies have the power to improve travel across tried and tested modes of transport, such as buses, with immediate benefits for people across the UK. But for this to happen, local governments need to create a vision for their areas – and a cash injection to build innovation capacity is sorely needed.

Emilia Smeds, PhD Candidate in Urban Governance, UCL.
This article is republished from The Conversation under a Creative Commons license. Read the original article.
This article is from the CityMetric archive: some formatting and images may not be present.