I was blown away when I learned that Hastings Pier – once an abandoned and derelict Victorian relic – had won this year's Stirling Prize. A community-led development has been officially declared the UK's best new building. This victory demonstrates that excellent architecture and meaningful regeneration can be achieved through projects that are led by local citizens, and rooted in their communities.
I came to know about Hastings Pier through my involvement in the campaign to save London Road Fire Station in Manchester. These two very different structures have a few important things in common.
Both buildings are held in deep affection by their local communities; both recognised as having important heritage value by official bodies such as Historic England – and both were left to decay.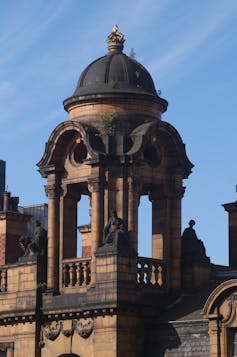 London Road Fire Station: inspiring. Image: Andrew Turner/Flickr/creative commons.
Sadly, it is not unusual for significant buildings to be left to ruin for decades, when owners can't or won't act to sell or save them. Situations like these can be described as "difficult" or even "delinquent" ownership.
In such cases, the ownership of the site becomes a long-term stumbling block preventing regeneration – often with a knock-on effect to the wider area. Even where there is the investment and the political will to bring a building back into use, a project can be stalled permanently by a landowner who refuses to cooperate.
Local consultant Jericho Road Solutions, which was involved with the campaign to save Hastings Pier, established the Community Assets in Difficult Ownership (CADO) programme to work with ten such projects, including Hastings Pier and the London Road Fire Station. Between them, these ten buildings have been empty for a total of 224 years, representing a loss to the economy of more than £1bn.
Local community groups associated with each project received grants, advice and mutual support to help them progress.
People power
Hastings Pier was eventually freed from its private owner, Ravenclaw, through the use of a Compulsory Purchase Order (CPO). CPOs are legal powers available to local authorities, which can force land owners to sell land or buildings under certain circumstances.
A balance has to be struck between a person's right to own property and the wider public interest. One example of when a CPO might be used would be to acquire land for major infrastructure projects, such as HS2. For this reason, CPOs can be viewed as a threat by local communities looking to protect their homes and land. But CPOs can also be used to buy a site needed to support urban regeneration, or to save a historic listed building which is in urgent need of repair. This latter mechanism was the one used to save Hastings Pier.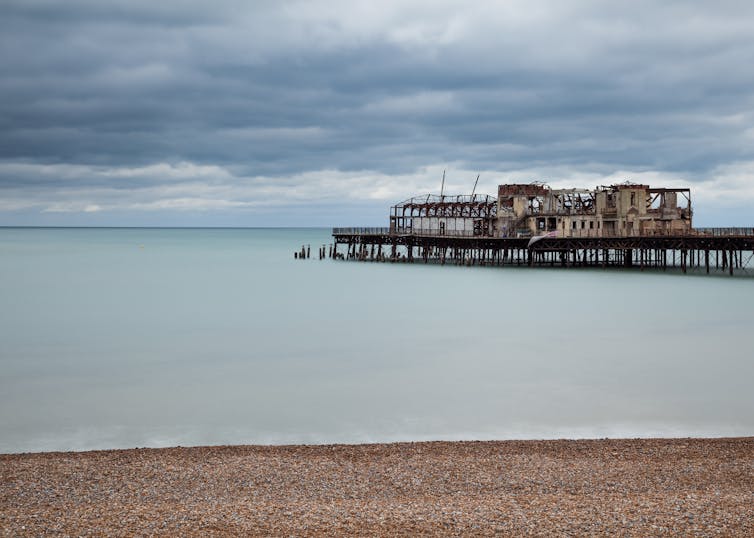 In desperate need of some TLC. Image: jtweed/Flickr/creative commons.
In Hastings, the pressure for the CPO actually came from the local community. Councils are often risk averse and prefer to avoid confrontational action such as CPOs – which can result in significant legal costs if things don't go according to plan.
By 2011, the Hastings Pier and White Rock Trust (HPWRT) had been established, and was raising funds with the long term ambition of taking over the pier to run it as a community asset. But the project remained in limbo due to its "difficult owners".
With expert advice on both sides and a series of productive meetings, the HPWRT and the local council came to an agreement. The necessary building repairs were identified and Ravenclaw were given an opportunity to carry them out. When this didn't happen, the council was in a position to acquire the pier using a CPO.
The pier was then immediately transferred to the HPWRT, in what is known as a "back-to-back" agreement. The success of this strategy is a credit to the willingness of both parties to work hard at developing a constructive relationship and to try a new approach.
---
Inspiring change
The CADO programme has recommended new laws to support the regeneration of buildings that are languishing under a "difficult owner".
But until those changes can be made, I hope that local authorities and government can take confidence from the success in Hastings and view community groups as partners, working carefully to use enforcement powers that are already available to them. These strategies can secure the highest standards in architecture and – unlike much private investment in development and regeneration – the buildings belong to the community.

There are also lessons here for community activists. Those working to influence their local area often find themselves reacting to proposals by developers. Precious time and resources are consumed with this essential scrutiny work to fight inappropriate developments. But the story of Hastings Pier should inspire citizens everywhere, reminding them to sometimes take a proactive approach to pursuing the kind of built environment they yearn for.
Emma Curtin, Architect and lecturer, University of Liverpool.
This article was originally published on The Conversation. Read the original article.
This article is from the CityMetric archive: some formatting and images may not be present.