Detroit has been demolishing about 200 vacant houses per week since December 2014, with a goal to take down 6,000 houses in one year. Much of the demolition work is concentrated in about 20 neighbourhoods where the blight removal is projected to have immediate positive effects of improving remaining property values and clearing land for future development.
While Detroit may be an extreme example, economic decline, disinvestment, racial segregation and natural and human-made disasters have left other American communities with unprecedented amounts of structural debris, abandonment and blight, too.
As scholars who focus on understanding the complex circumstances that have led to blight, we also have some ideas about potential solutions that could prevent this cycle the next time around.
We've coined the term domicology to describe our study of the life cycles of the built environment. It examines the continuum from the planning, design and construction stages through to the end of use, abandonment and deconstruction or reuse of structures.
Domicology recognises the cyclical nature of the built environment. Ultimately we're imagining a world where no building has to be demolished. Structures will be designed with the idea that once they reach the end of their usefulness, they can be deconstructed with the valuable components repurposed or recycled.
Thinking about the end at the beginning
The U.S. reached a record high of 7.4m abandoned homes in 2012. When people leave homes, the local commercial economy falters, resulting in commercial abandonment as well. The social, environmental and economic consequences disproportionately affect already struggling communities. Abandoned buildings contribute to lower property values and are associated with higher rates of crime and unemployment. Due to the scale of the problem, local governments in the U.S. are often unable to allocate enough resources to remove blighted structures.
All human-made structures have a life cycle, but rarely do people embrace this reality at the time of construction. The development community gives little thought to the end of life of a structure, in large part because the costs of demolition or deconstruction are passed on to some future public or private entity.
Currently, publicly financed demolition and landfilling are the most frequent methods used to remove abandoned structures, but these practices generate a huge amount of material waste. Upwards of 300,000 houses are demolished annually, which generates 169.1m tons of construction and demolition debris – about 22 per cent of the U.S. solid waste stream.
Here's where a shift to a new domicology mindset can help. Unlike demolition, deconstruction is a sustainable approach to systematically disassembling buildings, which can result in up to 95 per cent material reuse and recycling. This method, however, may increase time and cost, while at the same time potentially creating a vibrant reuse market for salvaged materials.
Domicology's comprehensive paradigm shift from landfill-dependent demolition waste streams to sustainable construction, deconstruction and material salvage will affect both methods of construction and the materials used. For example, in design and construction of structures, modular components tend to be easier to dismantle than "stick-built" methods. Construction techniques that rely more on connectors like screws instead of glues or nails mean dismantlers can remove materials with less damage, increasing the value of the salvaged material.
On the materials side, using salvaged wood products to create new structural wood products can reduce reliance on virgin timber, which has recently experienced shortages and price fluctuations. Salvaged concrete can be used as aggregate in new construction. In some cases, even roof shingles can be melted for asphalt road surfacing. In the Midwest, where there are substantial numbers of abandoned properties, an underground "scrapper" economy has emerged that salvages copper and other valuable metals from structures.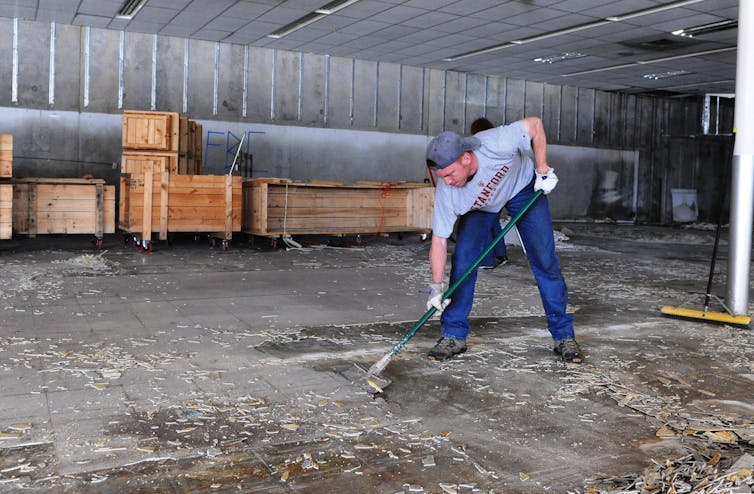 To make deconstruction a viable alternative to demolition on a large scale, some things need to change. Image: U.S. Air Force/John Van Winkle/creative commons.
What needs to change?
All of this requires forethought in recognising that structures have an end of life. There is value in planning, designing and building in such a way that when a structure reaches the end of its usefulness, people can maximise the salvage of the materials removed from these structures. Creating a value in the end of life of a structure also decreases the likelihood of walking away from these valuable resources – reducing private sector abandonment in a community experiencing distress.
Governments can help by putting in place policies, incentives and regulations to prevent abandonment and facilitate removal. Domicology will depend on figuring out the best processes and technologies for safe removal. Deconstructors will need to hire differently skilled laborers than for a standard demolition. And for domicology to work there will need to be a way to take the removed material to a place where it can be given a second life of some kind.
As with any paradigm shift, the most challenging issue is to change current mindsets. People need to leave behind a "build it, use it, demolish it" perspective and replace it with a "plan it, design it, build it, use it, deconstruct it and reuse the materials" view. Builders must imagine at the beginning of a structure's life what will happen at the end of it.
---
Economics do add up
Our domicology team recently tested the economic feasibility of using deconstruction practices rather than demolition as a way to reduce blight. We also wanted to explore how feasible it would be to establish a deconstruction-based repurposing economy.
Our findings suggest that the central collection, reuse and repurposing of material from legacy cities in the Great Lakes region is feasible with the help of specific policies, practices and targeted economic development strategies.
A crucial support would be a strong supply chain for salvaged materials. In Europe, California and the East Coast of the U.S., deconstruction firms can more easily acquire the material from blighted structures, access a skilled deconstruction labour force and use low-cost modes of transportation to move salvaged materials to processing facilities. All these advantages make deconstruction cost-competitive in those regions against demolition and disposal.
As a result of the work done so far, we and our colleagues have begun to incorporate the concepts and practices of domicology in targeted courses for students. By introducing this emerging science in the classroom, students here at Michigan State University are helping to pioneer a new 21st-century conception of a sustainable built environment.
As these ideas take hold and spread through planning, design, financing and construction industries, the goal is to prevent another blight epidemic like the one we see today in Detroit.

Rex LaMore, Director of the Center for Community & Economic Development and Adjunct Faculty in Urban and Regional Planning Program, Michigan State University; George H. Berghorn, Assistant Professor of Construction Management, Michigan State University, and M.G. Matt Syal, Professor of Construction Management, Michigan State University
This article is republished from The Conversation under a Creative Commons license. Read the original article.
This article is from the CityMetric archive: some formatting and images may not be present.