Jobs available in the automative industry dropped sharply last week as the world economy continued to toil under the Covid-19 pandemic.
Our job tracker – powered by intelligence from GlobalData – looks at open positions across the world in a range of industries. The number of "active" jobs each day are indexed against the situation on March 1, shortly before the pandemic was declared by the WHO. Only the food service, power and pharmaceutical industries have seen a rise in active jobs since then.
On 17 April, jobs in the automotive industry were down 65.2% compared to 1 March. By 24 April, they had fallen to 51.9% of 1 March levels – the biggest negative week-on-week change in any sector.
Travel and tourism remains the worst hit industry over the course of the pandemic, with active jobs at just 28.4% of the levels seen on 1 March. The next worst-hit sectors – medical, insurance, mining and oil and gas – saw further week-on-week drops in job activity, too.
Tracking the economic sectors hit hardest by the Covid-19 outbreak.
Covid-19 has had a major, ongoing economic impact across the globe; but that impact is not uniform across different industries. While some economic sectors have seen business rapidly decline, others have been more stable. Some have even seen an increase in demand.
This chart aims to give a broad overview of which sectors are suffering the most since the WHO declared Covid-19 a pandemic. It uses exclusive dynamic intelligence provided by GlobalData to track the number of jobs open for applications, across the world, across 19 economic sectors. The summary chart shows the six which have seen the biggest percentage drop in these "active" jobs.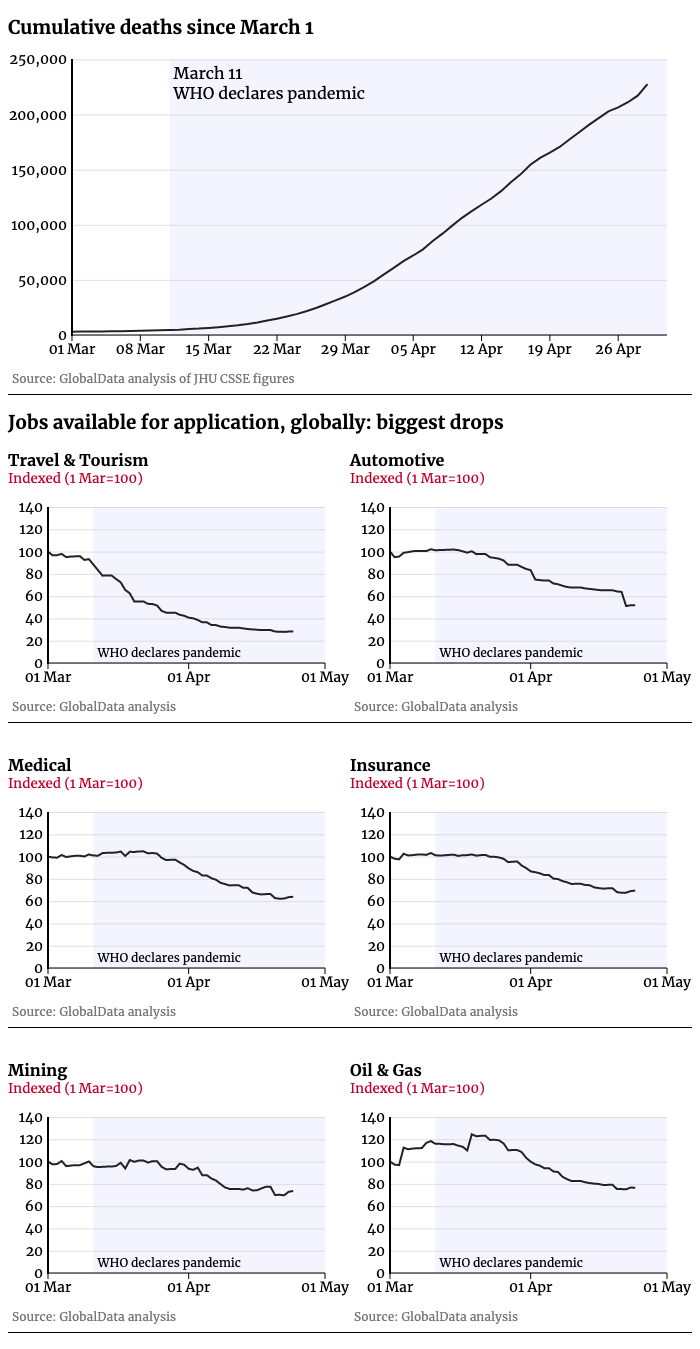 This article is from the CityMetric archive: some formatting and images may not be present.