London has grown steadily for the past 30 years, in people, jobs and self confidence. Population growth has been driven both by in-migration (more people moving to London than moving away) and by natural change (more births than deaths). International migration – both EU and non-EU – has been a major factor in the city's growth, outweighing domestic migration, where London has been a net exporter of people.
For some, London's growth should be celebrated as evidence of its success as a global city: it's a jobs machine; an economic powerhouse; a gateway to the UK; a generator of fiscal surpluses for the whole nation. For others, London is a "dark star", draining the rest of the UK of people, talent, public spending and media attention. Its growth is seen as unnatural and unbalanced, leading to a large and increasing gap in opportunities, wealth and income between London and the rest of the UK.
These debates are familiar and entrenched – but perhaps they are becoming out of date. There are already some indications that London is at the edge of a major inflection point: could it be that, rather than continuing to grow, London is about to stall, or even go into decline?
Prime and decline
For much of the 20th century, London was in decline. After World War II, the city's manufacturing and goods-handling economy faltered. Between 1966 and 1974, London's manufacturing employment fell by 27 per cent – a loss of 390,000 jobs. Planning and economic policy favoured dispersal, more balanced regional growth and the creation of New Towns and Garden Cities outside of London. The capital's population declined most rapidly in the 1970s: over the decade, the capital experienced a net loss of 740,000 people – that's 10 per cent of the city's population.
Few, if any, commentators foresaw the change that came in the mid-1980s, as the long decline in both population and jobs slowed and then reversed. Sentiment began to shift; London began to look like a place to be, rather than a city to flee. The completion of the single market, freedom of movement and EU expansion helped London to develop a specifically European economic and cultural role, alongside its status as a global city.
Globalisation – the easier movement of people, goods, services, money and ideas across borders – boosted London's role as a centre for communication and control, and as a meeting place within the world economy. Language, time zone and cultural assets all helped. English became the global business language. London's working day helpfully overlaps with Asia in the morning and with North America in the afternoon. And the city's liveability, cosmopolitanism and cultural offer all made it attractive as a location for decision-makers, skilled workers and students. Complementing this economic growth, by the turn of the 21st century policy shifted to favour cities.
Without the benefit of hindsight, it is much harder to decide if we are now approaching a move in the opposite direction. There is some evidence of this: in the year to mid-2017, London's population experienced the slowest rate of growth in over a decade, at only 0.6 per cent. International migration to London has declined to a net gain of only 83,000 individuals in 2016-17, though it remains the largest contributor to growth in the capital.
National Insurance Number registrations by people coming from overseas to work are dropping, with EU registrations falling 25 per cent year-on-year to the first quarter of 2018. Net internal migration saw a balance of 107,000 people leave London for the rest of the UK, more than 14 per cent higher than the previous year. Over 4.7m international visitors came to the capital in the final three months of 2017 – a noticeable 5.7 per cent fall compared with 2016.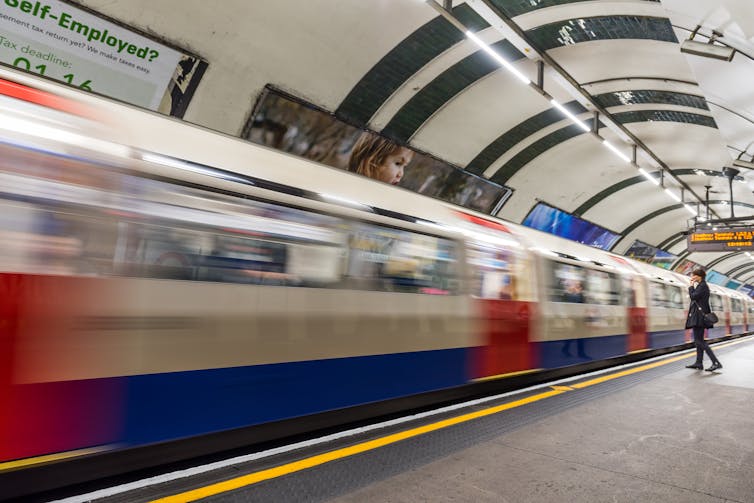 Slowing down? Image: Merlijn Hoek/Flickr/creative commons.
Passenger journeys on public transport are also decreasing slightly. Falls in ridership may be an early sign that London is at or close to reaching peak growth. Or they may be driven by other factors – for example by changing work or commuting patterns, generational differences in housing choice and lifestyle or the rapid rise of ride-hailing apps.
Still the main attraction
Yet despite concerns over the impacts of Brexit, London's economy has proved resilient, with unemployment continuing to fall and job numbers increasing. The number of jobs increased to 5.863m in the final quarter of 2017, a 98,000 (1.7 per cent) increase from a year earlier and a new record-high. The employment rate in London stood at 75.2 per cent in the three months to March 2018, also a record high. Job growth is predicted to continue, as job vacancies in the capital have reportedly increased by over 14 per cent in the year to the second quarter of 2017.
---
London continues to be the most productive region in the UK, although many new jobs have been created in low-pay and low-productivity sectors. And it's still a very competitive destination for investment. In the EY 2016 European Attractiveness Survey, 57 per cent of almost 1,500 business leaders sampled put London among the top three cities for foreign direct investment in Europe.
So is London's long boom finally coming to an end? Like any demographic or economic turning point, this one will be easier to spot in hindsight. If current trends continue, then London's growth may slow considerably – or even perhaps reverse – over the next 30 years. Brexit could affect this in unforeseen ways – although the economic impacts of Brexit are likely to be worse outside London than within. And for the time being, London is still growing in terms of people, jobs and economic activity.

Mark Kleinman, Professor of Public Policy, King's College London.
This article is republished from The Conversation under a Creative Commons license. Read the original article.
This article is from the CityMetric archive: some formatting and images may not be present.